The advantage of staying in a city hotel like ours is that you won't need a car to discover Palma de Mallorca. Being in the centre. You can visit the most emblematic places on foot and you won't need a car to do so.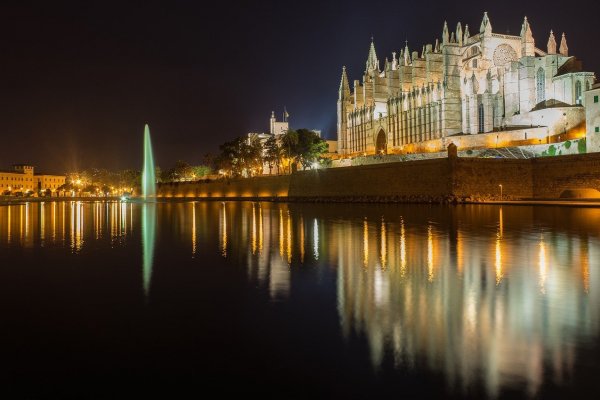 Cathedral of Palma de Mallorca

The Cathedral of Santa Maria de Palma de Mallorca
After the conquest of the island by the Crown of Aragon in 1229, King James I ordered the construction of this marvellous cathedral at the foot of the sea on the site of the old Arab mosque. It is a construction in the Levantine Gothic style, with clear Northern European influences, measuring 121 metres long and 55 metres wide. Its altarpieces are a marvel.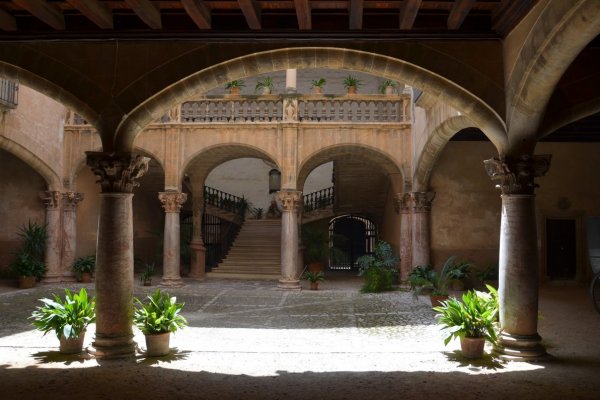 Patios of Palma de Mallorca
The Majorcan patios
Very close to our hotel you will find several streets with stately houses that have wonderful interior courtyards. Their construction dates from the 13th to the 18th century and they are one of the hidden wonders of the Mallorcan capital.
More than twenty patios are hidden in the streets Estudi General, Sant Bernat, Zanglada, Almudaina, Morey, Portella, Can Serra, Dusai, Vent, Sol, San Francesc, Terra Santa, Samaritana and Can Savellá.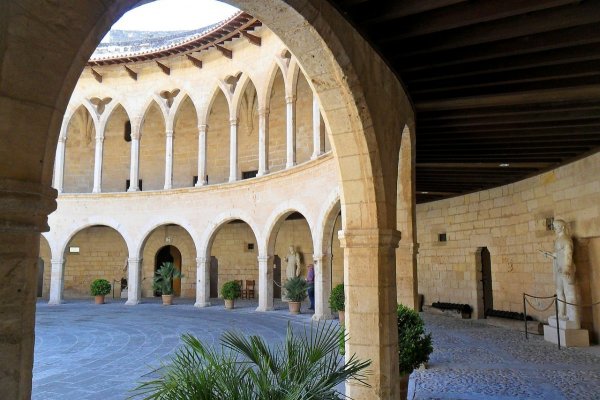 Bellver Castle in Palma de Mallorca
Bellver Castle
Its name comes from the old Catalan and means "beautiful view". It is one of the few circular castles in existence and is Gothic in style. It is located on a hill 112 metres above sea level, in an area surrounded by forest, from where you can see the city, the port, the Tramuntana mountains and the plain of Mallorca. You can reach it on foot without any problems from our hotel.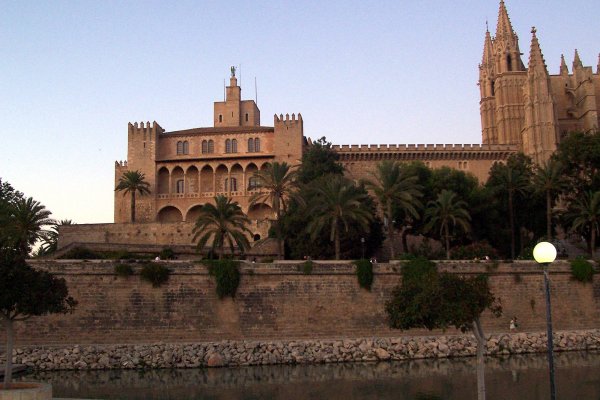 Almudaina palace in Palma de Mallorca

Almudaina Royal Palace
This imposing palace is the perfect counterpoint to the Cathedral and both look spectacular at night. Built in 1309 by King Jaime II, the ground floor recreates the medieval style with works from the 15th to the 20th century. The upper floor, used for the celebration of official events of the royal family, is decorated with objects and furniture from other Royal Sites from the 17th, 18th and 19th centuries.

In the next article we will continue discovering places just a stone's throw from our hotel.