Surely the city of Palma de Mallorca would not be the same without our beautiful Mallorcan patios. These patios, characteristic of the historic center of our city, began to be built in the 13th century with the arrival of the Gothic on the island, having its peak between the 16th and 18th centuries, a period that coincided with the rebuilding or reform of the main neighborhoods of the city.
All of them preserving their Baroque, Italian, Gothic or Renaissance charm, today some have been converted into museums or institutional buildings but others are still the homes of privileged inhabitants.
With large open areas dotted with wells, stairs and large flowerpots, they are unique in Balearic architecture.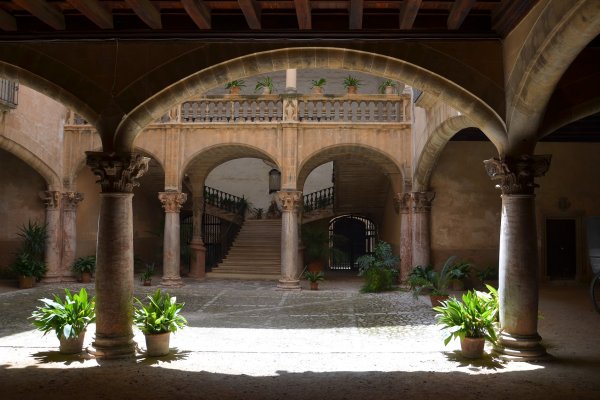 Mallorcan patios
You will find them in the center of the city and, simply walking, you should look at the beautiful bars that have the entrances of some houses which give access to the patio. Some of them are open for you to enter while others are closed, but you can still see the inner courtyard and admire the design of the gate itself.
More than twenty patios are hidden in the streets of Estudi General, Sant Bernat, Zanglada, Almudaina, Morey, Portella, Can Serra, Dusai, Vent, Sol, San Francesc, Terra Santa, Samaritana and Can Savellá so put on comfortable shoes and visit as many as you can since, from our hotel, you will have them a stone's throw away.