We have already written many articles in which we have shown you incredible places to visit in the Serra de Tramuntana, but there are still many more to discover!
Your holidays in Majorca can have all the magic and excitement that you want to give them. For this, multiple and varied options are available to make your trip truly unforgettable.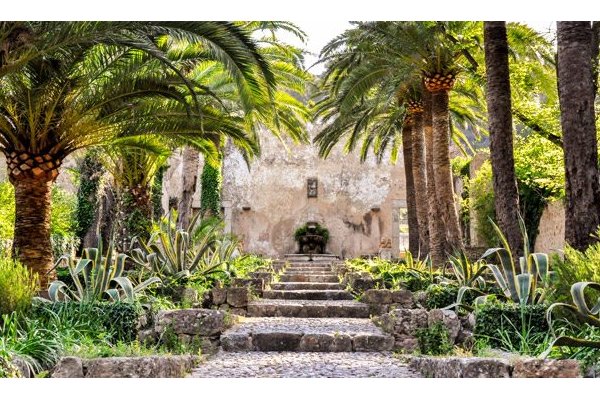 Today we are coming to the municipality of Bunyola, just before the Sóller tunnel, to show you some dream gardens that will brighten up the whole family's holidays.
Lush, peaceful gardens
These gardens come from the specific Hispano-Arabic heritage of Mallorca. This type of garden usually has terraces and land dedicated to the cultivation of plants and fruit trees, especially citrus fruits. However, during the Renaissance, the island's nobles wanted to add a touch of wealth and luxury to these gardens, so they incorporated certain changes.
The tour of this "possessions" begins by climbing a beautiful staircase flanked with beautiful palm trees. Very much in the Umayyad style. At the end of the avenue we find two stone lions guarding a small fountain, next to an alijbe that appears to be covered by a half-barrel vault, a piece that creates a beautiful reflection in the water. From there we discover some beautiful views.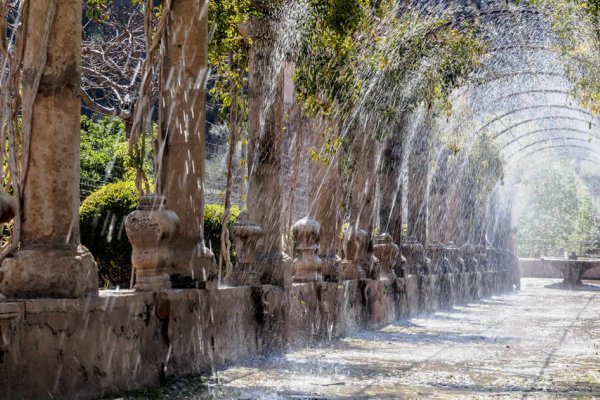 After visiting a small kitchen, we come to the most emblematic element of the garden. It is a pergola with 72 columns, dating from the 18th century. The final section is adorned with 24 stone hydras between which water jets are interspersed to create an aquatic spectacle that will keep us seduced for a while.
Corners full of magic and freshness is what we will find in this incomparable walk. The route continues. If we continue ascending, we will reach a tower with a breathtaking view.
And further on, if we do not stop the walk, we will come to a space crowned by tall palm trees surrounding a small pond. This corner is known as the "jardinet de la Reina" (the Queen's garden) as it was remodelled following a visit to these gardens by Queen Elizabeth II.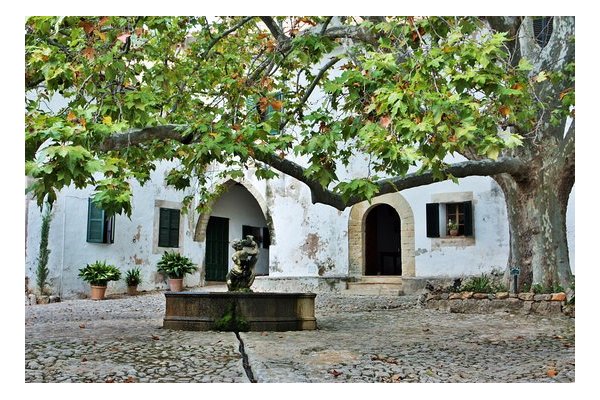 Part of our history
After King James I succeeded in conquering the island, he gave this estate to his uncle Nuño de Rosellón, who sold it to the Ben-Abet family. After being in the hands of this Moorish family, it passed through several owners until it belonged to the current owners, the Zaforteza family.
The family house was built in the 15th century and a century later a tower was added. A major renovation was carried out in the 18th century, giving rise to the rear wing and the façade, and it was this renovation that gave the place a baroque style. Finally, in the 19th century, a new and important modification took place that changed part of the reforms that had taken place previously.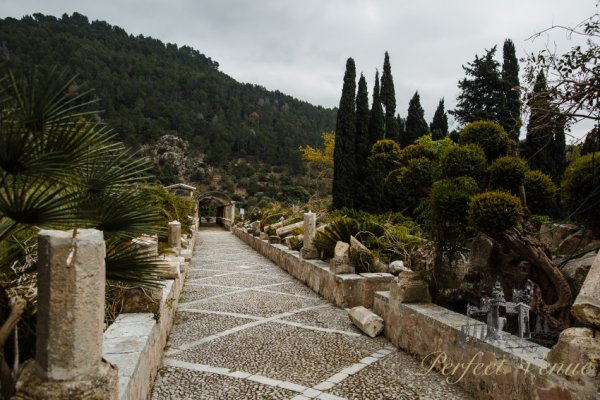 Your holidays in Mallorca
The island offers many special places, beautiful beaches and coves, a first class nightlife, and good value for money options. Whether you wish to stroll along the seafront or along the Paseo del Borne, strolling through the historic centre, Mallorca welcomes you with open arms, making your trip to Mallorca more than you dreamed it would be.
From your ideal accommodation, the Hotel Palladium Palma, you will see that it is very easy to access the wonders that the Serra de Tramuntana offers you. If you have any questions, our hotel staff will be happy to help you.
)
Tags